▪ Patinas and Protective Finishes Q & A ▪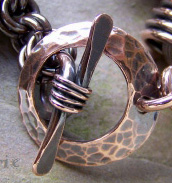 Adding a nice patina to your wire jewelry can make the difference between "So what?" and "Wow!" There are seemingly limitless patina colors...from rich blacks, browns, greens and blues to vibrant reds and oranges.
Besides being appealing to the eye, finishes can also be functional. You might use a clear coating to prevent tarnishing of your shiny copper. A nice patina is a great way to hide minor imperfections and tool marks.
One of my favorite finishes is Liver-of-Sulfur. With LOS, you can create some really beautiful aged looks. To help you get started with this easy-to-use finishing method, check out this Liver-of-Sulfur article.
This is the place for you to ask any questions related to patinas and protective finishing techniques or issues. And, as with all the Q & A forums, if you're a wire jewelry artist yourself we welcome your ideas and experiences!
→ Patinas and Protective Finishes questions asked by other visitors.
---
Ask your patina and protective finish question here.
Have a question about adding a patina or protective finish to your wire jewelry? Just ask it here!
Patina and Protective Finish Questions Asked by Other Visitors
Click below to see contributions from other visitors to this page...