Glossy Black Finish with LOS
by Grace
(Ohio)
I am looking for directions for obtaining a glossy black finish on sterling or Argentium sterling pieces. I am referring to a flat piece with no recessed areas. It seems like my LOS finish is always dull and I want to glossen up the patina without removing it. Thanks.

Stacy's Answer:

Hi Grace!

To get a glossy enamel-like finish with liver-of-sulfur, you must first start with a highly polished piece of metal. After tumbling or buffing a piece of jewelry to a high-polish shine, I add the LOS patina. For great results, heat water until very hot. (too hot to touch, but not boiling) Dip the metal into the hot water and then directly into a very hot LOS solution. Remove and rinse. The black patina will look glossy... almost like an enameled finish.

I tumble it again for approximately one hour. This will shine up the piece even more. If you tumble longer than an hour or so, the patina will still stay shiny, but will start to lighten to dark brown becoming more bronzy the longer it tumbles. If your metal is coming out of the LOS patina bath looking velvety, either the metal is not shiny enough or your solution is too cool or both.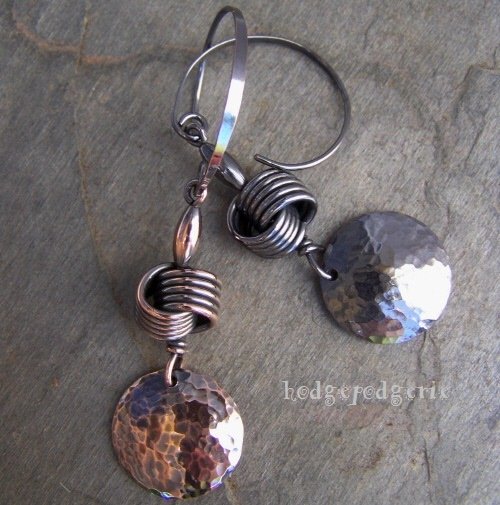 The earring on the right is directly out of the LOS then rinsed with water and on the left after tumbling and a quick buff with a jewelry polishing cloth to remove some of the dark patina.