Copper finish
by Barbara Fleming
(Clearwater, Fl. )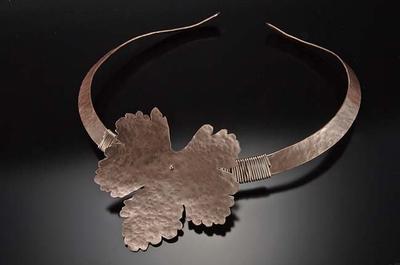 copper neck piece
I'm working a lot in copper and need to know how to best preserve the shiny finish, lacquer or wax!

Stacy's Answer:

Great neck collar Barbara!!

Wouldn't it be nice if copper did not require a protective coating to keep the beautiful finishes we put on it? Sigh. Sadly, it does oxidize quickly, hence the needs for protective finishes. I'm sure there are many opinions about protective coatings - here's what I have discovered from trying so many of them so far.

I've had good results with both Permalac Lacquer and Clear Guard Lacquer. Clear Guard is available from Sculpt Nouveau. Some artists have said that the lacquers turn sticky when worn around the neck area, but I am not aware of this with any of the pieces I've used it on. I'm not sure if the stickiness was caused by improper application, brand of lacquer of some other factor.

The reason I prefer the above mentioned lacquers is they seem to be the only ones that I've tried to date that actually stop the metal from continuing to oxidize under the lacquer coating. And they've been very durable, even on cuffs and neck pieces which I call "high traffic" because of the surface areas subjected to a lot of rubbing while worn. I do not use a protective coating on wire pieces, just larger metal items like the photo you've included. I use both a matte finish and shiny finish depending upon the design and what finish looks best. Unfortunately, the lacquers I prefer are not the most user-friendly with strong fumes and the tedious application process.

I've found the waxes to wear off fairly quickly, especially down here in hot, humid Florida, so I don't use them. I'm still searching for an easy-to-use, durable protective coating for copper. One that can't be seen or felt and keeps the beautiful finishes looking that way for years and years!(ha!) If I find a better one I'll post about it here!! If someone has found an awesome product, please share!

Join in and write your own page! It's easy to do. How? Simply click here to return to Patinas and Protective Finishes Q & A.