What size tumbler to use
by Carol Whearty
(Paris, MI)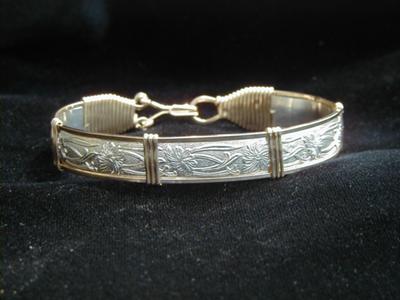 Gold & Silver Pattern Wire Bracelet
I am a wire-wrapper and I want to tumble/burnish my wire-wrap bracelets with stainless steel shot. About 7" circumfrance and 1/2" wide. Say tumble about 10 bracelets at a time.

I am having a hard time figuring out what size rotary tumbler to get. I'm thinking a 3lb Lortone is too small.

What size barrel do you use to tumble your cuff bracelets?



Stacy's Answer:
Hi Carol!
What a pretty bracelet!
I use a Lortone 4C (four pound capacity) model most of the time because the barrel is large enough for chokers or tumbling 4-5 bangle bracelets at a time. The inside diameter of the barrel is nearly 6 inches. But I don't think it's quite large enough to do the job for you.
You may find that the Lortone QT6 six pound capacity is better suited to your needs. For best results, the shot must come in contact with all surfaces of the jewelry. When tumbling the large quantities of bracelets as you mention, you need room in the barrel to allow the shot access to the surface areas of your jewelry.
The bigger tumbler barrels require more shot, so be sure to purchase enough for the barrel size you'll be using. I use 3 pounds of Stainless steel shot in the 4C which limits the amount of jewelry items I can tumble, but I love the results! I recommend 3-4 pounds of shot for the larger tumbler.