Problem with Copper Patina Polishing
by Osman Hrgic
(Bosnia)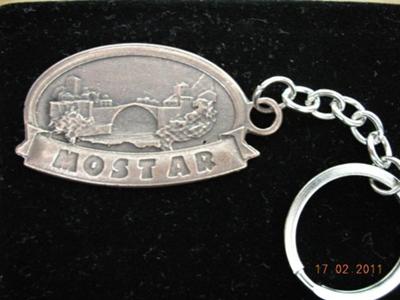 Hello to everyone!

I attached a photo of pieces what I get after tumbling. (picture keychains Mostar) and picture of finished product like I want to get pendant. I use ceramic media. Please give me sugestion on what I need to do to get shiny key chains.

Best Regards!

Stacy's Answer:
Hi Osman and hello to you in Bosnia!
It's difficult to tell from the photos, but I think one thing that will really make a difference is to change the tumbling media to stainless steel shot. There is a mixed-media made-up of different shaped pieces for tumbling metal jewelry. I know of folks who also just use the stainless steel pin-media which works well also.
There are different types of ceramic media. Some are best used for de-burring and light metal-removal...not polishing to a bright finish. Tumbling using the stainless steel shot combined with water and dishsoap will give you a bright shiny finish on the metal. Make sure you use STAINLESS steel shot and NOT STEEL shot as the steel will rust.