Ever worked with Titanium?
by Don Wood
(Phoenix, AZ)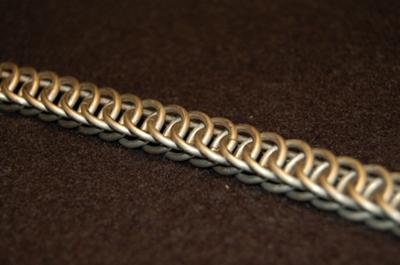 No change after 24hr in tumbler...
Hello,

I have been doing chainmaille jewelery for several years, and have always used a tumbler with great results on almost every metal, from bronze, to copper and silver alloys.

I aquired some Titanium wire and tried my hand at making some chains with good results. It is rather difficult to work, due to the hardness, but possible.

The Titanium has a satiny finish, which is cool looking, however i was hoping to be able to put at least a little bit of a polish on some of my pieces. I used my typical tumbling set up, HF tumbler, with SS shot and burnishing liquid. After a few hours the piece looked like it was never even in the tumbler. I decided to up the ante and leave the piece in over night, no effect. Pretty much any amount of time in the tumbler has no effect on the Titanium.

Any suggestions? I'm not looking for a mirror finish here as i dont think that may be possible, since the Titanium is probably just as hard as the steel shot. Although to have no effect at all on the material is a bit suprising.

Any help or info is greatly appreciated, and thanks for your time!


Stacy's Answer:
Hi Don. I've never personally worked with Titanium, but I have heard that it is very tedious to try to get a high polish on and next to impossible to do so with a rotary tumbler.
I've heard of some limited success using a vibratory tumbler and a different tumbling medium such as ceramic, but even then it took days to get a noticeable change in the finish. Perhaps some of the readers have some experience with Titanium. Your comments and expertise would be welcome on this.
Nice looking chainmaille, by the way.