▪ Twisted & Coiled Bangle Tutorial ▪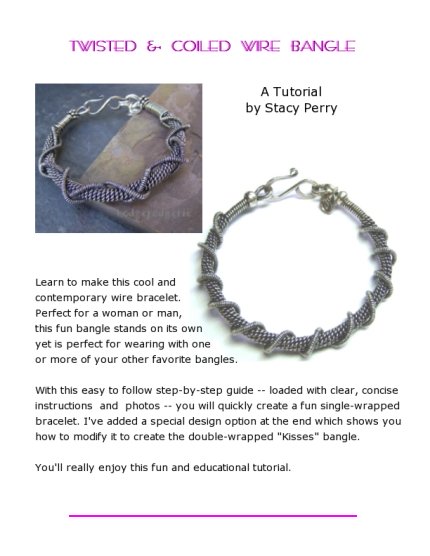 Learn to make this cool and contemporary wire bangle bracelet. Perfect for a woman or man, this fun bangle stands on its own yet is perfect for wearing with one or more of your other favorite bangles.
With this easy to follow step-by-step guide – loaded with clear, concise instructions and photos – you will quickly create a fun single wrapped bracelet. I've added a special design option at the end which shows you how to modify it to create the double wrapped "Kisses" bangle.
This tutorial shows the bangle being created in Sterling silver. However, copper wire may easily be substituted. Basic wireworking skills are recommended.
Here's what one student said who recently purchased this tutorial.
"Stacy, your instructions were clear and concise...very readable...it couldn't have been any easier."
After payment, you'll receive your two-part tutorial via email in a downloadable and printable PDF file. I know you'll really enjoy this fun Twisted and Coiled Bangle tutorial.
USD $6.95 Click here to purchase