Tip for cutting sheet metal
by Deb Mae
(Dearborn Heights MI)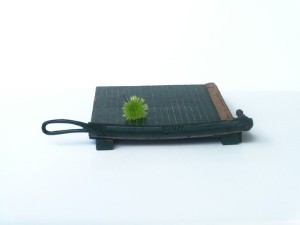 Old fashioned paper cutter
Hi Stacy,

Just wanted to give a tip. I aquired an old fashioned industrial paper cutter like they used in office & schools, one with the wooden base and strong metal handle. It is awesome to cut metal sheet up to 20 gauge, 22-26 being very easy, 20 needs some strength. You can pick them up on eBay pretty cheap. It certainly has helped cutting all my brass, bronze and copper sheets.


Stacy's Answer:
Hi Deb Mae. I apologize for the long delay. Seems I mismarked several submissions as completed and just discovered my mistake.
For clean cuts vs. using metal shears, I can see where a good solid paper-cutter can be a big time-saver. I would think one would want to pick up a fairly heavy duty cutter such as the old wooden base one you describe.
Great tip!