▪ Sunflower Repoussé Workshop ▪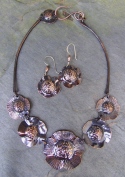 Have fun transforming ordinary disks into contemporary, stunning jewelry. In this 6 hour workshop you'll saw, texture and learn very basic repoussé techniques to create concentric circle "sunflowers" out of copper discs. Learn how a tube rivet adds pizzazz to a clasp while adding strength to it.
This is a cold metal techniques class, but torching is used to anneal the metal.
Skill Level
Experience with jewelry hand tools is helpful. However, all skill levels are welcome.
Tools
Important: There is no need for you to go out and purchase any tools. All tools necessary for completing the project will be available at the workshop. However, some training venues have a smaller tool inventory than others, which may mean sharing.
For that reason, I recommend you bring your own small hand tools (i.e. pliers, cutters, favorite hammer, metal shears, etc.) if you have them. (Note: I usually have quality tools available for purchase at the workshop.) Contact me if you have any questions.
The following is a list of tools that we'll be using during the workshop.
Round nose pliers
Wide nose pliers
Chain nose pliers
Flush or semi-flush cutters
Ball pein hammer
Plastic mallet or rawhide hammer
Assorted files, especially a 1/2 round fine cut
Sharpie® marker or other indelible pen
1.5mm or 1.8mm metal hole punch (some will be provided, but bring your own if you have them)
Wooden dapping cube
Steel dapping cube and daps
Jeweler's hand saw (proper blades will be provided for you)
Small bench vise
Shelf/drawer liner foamy stuff for sawing jump rings
Annealing set-up including a powerful torch such as a Mapp Gas or acetylene torch, annealing pan w/pumice, water for quenching and a pickle pot and copper tongs for removing firescale.
Multi-hole or Power Punch
Beading awl for stretching smaller holes if necessary.
12 inch ruler
Steel bench block
Hand towel

Fees

Each training venue sets its own workshop fees. You'll find contact information for each venue on my Class Schedule page.

In addition to the workshop fee, a separate materials fee will be paid at the workshop to cover all materials needed to complete the project. The materials fee includes a full-color step-by-step written tutorial.




---

"Wow! What a fun time...I can't believe I made this myself."