Smaller dapping dies for bead caps
by fancifuldevices
(Chicago)
hi! I bought a lovely and really inexpensive dapping block from you. It's great for medallions and larger pieces, but I also want bead caps. And you know the ones you can buy are always flowers and swirly bits and all that. I love the ones you make that are just as plain as possible, but I'm rather modestly-off and also a cheapskate. So, what do you suggest? (my dream would be some way to sort of fake one up that'll give me a feel before I decide whether to invest) Is there an inexpensive option like the lovely block you sold me?

Thanks so much!


Stacy's Answer:
Hello! The thing about wanting to expand upon one's wire and metalworking skills that require more tools (and don't they always???) is that an investment is going to have to be made. Of course tools come in a variety of qualities and costs.
To appeal to your "cheapskate" side, I'll stick to the bare minimums here. :)
To create beadcaps you must have the right tools or they're just not going to happen. As you've discovered, you can't make them with your wooden dapping cube. You need a steel dapping cube, daps, a steel bench block and a dead-blow style hammer or even a plastic hammer or rawhide hammer would work. Heck, for that matter, an old heavy hammer from the garage would probably do the trick too. You can spend a small fortune on these tools, but Eurotool has an economical solution without sacrificing quality.
I have the Essential Dapping Sets that have the dimples you need with the coordinating daps, and the flip-side of the dimpled block is a steel bench block. They come in a handy wooden stand for $39. They're heavy, so the cheapest shipping is the USPS Medium sized Flat Rate Box for $10.35. The set should suit your needs just fine. If you purchase all the tools individually, you'll pay double to triple or more.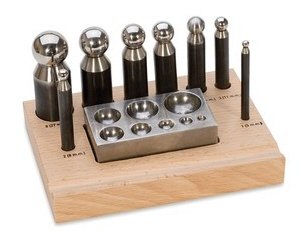 You will need metal discs which I sell in my
Etsy store
. Or you can punch your own. Then you'll need a brass dead-blow hammer (around $24-$40), disc cutter set (around $100) and a rotary tumbler ($35-150) one pound stainless steel shot ($23 average), metal shears or snips for cutting your sheet ($15-30), safety glasses and sheet metal.
So...back to the least expensive method. For now, it's the set above and purchasing discs in the different metals. If you are interested in the above,
contact me here
or through my Etsy store.
Thanks!
Stacy - who still doesn't have too many tools!!