▪ Love Me Knot Bracelet Tutorial ▪
The Love Me Knot bracelet. This is one of my favorite and most popular original hodgepodgerie designs. Combining Love Knot links and hand forged metal discs, you too can create this fun and simple bracelet!
First, you'll learn how to make the popular Love Knot links. Then you'll use metal forging and texturing techniques to create the double disc links and your own hand-forged toggles. Finally, link them all together with jump rings.
With 12 pages of step-by-step instructions and 53 great close-up photos, this tutorial is VERY detailed! I've included tips and tricks you won't find anywhere else. In no time at all, you'll recreate this beautiful piece of jewelry for your own enjoyment or give as a treasured gift!
This tutorial assumes that you already have basic wire working skills such as making eye pins, coiling wire, simple hammering techniques, etc. A separate tutorial is available for those wishing to make the Love Knot link without the bracelet.
Here's what one recent customer had to say about her experience with one of my tutorials.
"Stacy, Thanks a bunch for the great tutorial. It was fun and a lot easier than I thought it would be."
After payment, you'll receive your two-part tutorial via email in a downloadable and printable PDF file. I know you'll really enjoy this fun Love Me Knot Bracelet tutorial.
$8.95 - Click Here to Purchase
---
— Love Me Knot Bracelet Materials Kit —
Don't want to track down all the bracelet materials yourself? Lack the necessary tools (or desire) to wrap coils or punch discs? Well, here's your answer! It's a complementary materials kit for my Love Knot Bracelet tutorial.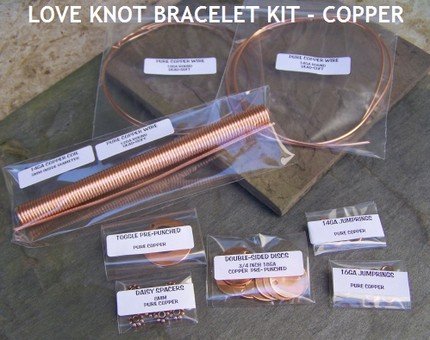 No need to hunt for materials or buy more than you need. In this convenient kit, you'll receive everything you need to build your bracelet! Each component is clearly marked and in its own bag. A few extras are included to allow for different wrist sizes. With your leftover discs or knots, you can create lovely earrings to match your new bracelet!
Here's what you get in your COPPER KIT.
1 - 5-1/2 inch coil of 14 gauge round wire inside diameter 9mm. Enough to make 5 love knots.
12 - High quality daisy style spacers
4 - Precision cut and polished 14 gauge jump rings
12 - Precision cut and polished 16 gauge jump rings
1 - Pre-cut and punched toggle blank
8 - Pre-punched 3/4 inch heavy gauge discs. Enough to make 4 disc sections.
6 inches 12 gauge round dead-soft wire
18 inches of 14 gauge round dead-soft wire
24 inches 18 gauge round dead-soft wire
All components are made by me from pure copper...nothing plated! You may hammer, stamp and patina with beautiful results! The only thing missing is YOU!!!
For your toggle clasp you'll automatically receive a round copper blank. If you prefer a square blank, just send me a note through the Contact page.
Patina chemicals are not included.
$34.95 - Click Here to Purchase