Lorene's Twisted Sisters
by Laurie Bowers
(North Venice, FL)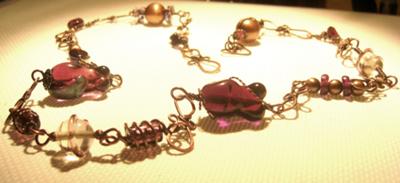 Lorene's Twisted Sisters by OneRedBead
How do I keep my creations from looking so Victorian. What should I do to make the design more bold and dramatic?


Stacy's Answer:
Hi Laurie!
I don't think, as a general observation, that your jewelry looks Victorian. What gives the piece in the photo a bit of that look is the raspberry colored glass. Dainty, filigree wire work combined with flowery beads and colors like pinks, raspberries, etc. can give jewelry a decidedly Victorian look.
Bold and dramatic does not mean more or larger wire. Use of color and design, even adding a touch of 'bling' can help you create a bolder, more dramatic look. A lot of your beads are earth-toned, which have more of a tribal/ethnic/earthy feel (Celtic, African, etc.) Bright colors, more modern shapes, a striking focal with complementing beads and wirework can create a more dramatic piece. Not that tribal can't be bold, but color certainly catches the eye. Try combining opposites of the color wheel for eye-catching appeal. You might try using silver wire or a combo of silver and copper wire in your pieces to add a bit more drama to the piece.
Stop by next time I'm in town, bring your pieces and let's talk about it!
Stacy