▪ Hot Surface Textures! Understanding Heat Textures and Reticulation ▪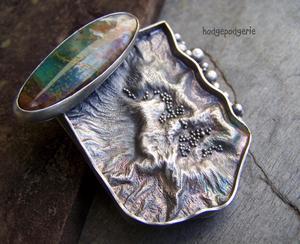 There are numerous techniques one can apply to add texture to metal, but with the use of a torch, one can create magic! Fusing, dusting and reticulating creates beautiful and interesting textures on metal.
In this workshop, learn how to better control and manipulate the process of reticulation to create unique and beautiful patterns. Then learn how to fuse precious metals - from larger pieces to granulation and tiny precious metal dust. Proper application of the rolling mill can further enhance your designs to create unique surface textures to take your designs to the next level!
Students must be comfortable with a torch.
---
Recommended tools to bring to the class:
Round nose pliers
Flat nose pliers
Chain nose pliers
Flush or semi-flush cutters that will cut up to 12 gauge wire
Ball peen or chasing hammer
Needle files
6 inch ruler
Soft tape measure
Steel bench block
Sharpie® or other indelible pen
Hand towel
Polishing cloth
#000 Fine steel wool
Some tools will be available to borrow; however, I highly recommend bringing your own tools if you have them. I typically have quality tools available for purchase.
A separate materials fee will include the necessary supplies to complete all class projects. A variety of supplies will also be available for purchase. And, of course, you may bring your own. You'll also take home a complete written tutorial.