▪ Earrings On Fire Tutorial ▪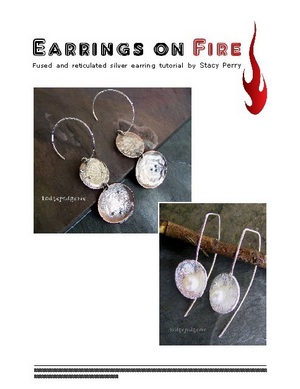 A step-by-step guide for making two pairs of beautiful earrings! In this 2-part tutorial I share some of my "tricks-of-the-trade" and give you two different earring projects with silver reticulation and fusing techniques.
Loaded with pictures and information with clear easy-to-understand directions!!
For these projects, you will need a basic torch set-up and some basic soldering know-how. While the different steps for the fabrication of these earrings is covered, this tutorial is not a soldering basics tutorial. These are great projects for helping you learn better torch control and how metal reacts with heat! You can use the same techniques to create pendants too! Instead of using pearls as shown for the earrings, you can solder silver, gold, brass or copper balls to the earrings or small bezel cups in which you set your favorite small cabochon gemstones.
Here's what one recent customer had to say about her experience with one of my tutorials.
"This is the most clearly-written tutorial I've ever purchased. I had a lot of fun."
After payment, you'll receive your tutorial via email in a downloadable and printable PDF file. I know you'll really enjoy this fun silver fusing and reticulation tutorial.
$12.00
Click Here to Purchase.