Art Festival
I'm excited to be participating in the 38th Annual Art Festival at Temple Beth-El in St. Petersburg, Florida. Showcasing the works of more than 150 national and international award-winning artists, it is one of the premier art shows in the entire Southeastern United States.
The three-day show will be held January 29, 30 and 31 and is open to the public. The selection process differs from most juried-type art shows in which a committee reviews submissions from artists. For the Temple Beth-El show, the artists are invited to participate, which makes it especially gratifying.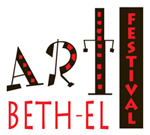 I'll be offering an assortment of necklaces, bracelets and earrings. Look for my booth near the check-out area. I hope to see many of you there!



---




New workhops: Sunflower Repoussé, fold-formed leaf collar, Metal Garden bracelet. Full details to follow but you can see the dates on my jewelry class schedule.



---


Speaking of classes, registration for Spring classes is happening now!