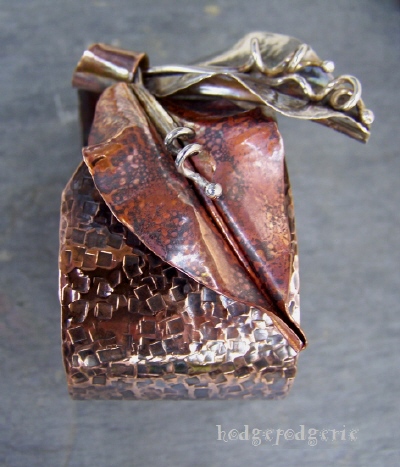 I've been having lots of fun with a technique called fold forming. It's a process of hammering, folding, annealing and hammering some more to create 3-D designs and textures from sheet metal. You can see an example to the left in this fun cuff style bracelet.

I was excited to have a few of my pieces recently featured in the June edition of Bay Magazine, an upscale magazine published quarterly as a Sunday supplement to the St. Petersburg Times newpaper. The necklace was purchased by a local Tampa Bay resident and the earrings went to Moscow, Russia.

I'll be launching a new jewelry collection available in September at the Dunedin Fine Art Center and currently have several pieces for sale at the Syd Entel Galleries in Safety Harbor, Florida.

Purchase any jewelry item from hodgepodgerie through August 31st and get 10% off plus free shipping. Just purchase the item as normal, then let me know after purchasing that you're a newsletter subscriber and I'll refund the difference back to your PayPal account. If you like an item that's been sold, please ask if I can create something similar for you. Some items are one-of-a-kind and others can be closely duplicated.